Regardless of what you might think about your feet, they will carry you through life. So it's important to treat them with the utmost care and attention to ensure that your feet are protected for as long as possible. Advance Foot Clinic have been providing excellent and thorough services to treat all feet-related issues for many years and we are proud of our attention to detail regarding any feet, ankle, heel or leg problems. We are the trusted Arana Hills podiatrist to deal with any potential issues. To book an appointment with the exceptional team at our Arana Hills podiatry location, get in touch today.
The trusted Arana Hills podiatrist team
When you walk through the doors at our Arana Hills location, you can be rest assured that everyone who looks after you is fully trained and accredited.
Every Arana Hills podiatrist is accredited with the Australian Health Practitioner Regulation Agency (AHPRA) and is dedicated to providing treatment that goes above and beyond to not only deal with the current problem, but prevent future problems.
Our Podiatrists
The team who take care of all of Arana Hills podiatry needs.
Pamela Denman

Angela Holland

Meredith King

Anthony Mansbridge
Committed to helping
We understand that treating feet-related issues can sometimes be costly when it comes to money and time. If you have a full-time job, It can often be difficult to book an appointment to have a professional assess your problems. We know this difficulty and so we are committed to providing evening and weekend appointments to suit anyone's schedule.
Telehealth
If booking an in-person appointment also presents a problem, we are more than happy to arrange a Telehealth appointment where suitable that allows you to chat to a fully-trained podiatrist online. You can get an expert opinion from the comfort of your own home.
Affordable Podiatrists
We are also committed to providing affordable podiatric advice to Arana Hills and the surrounding areas because we firmly believe that everyone deserves accessible professional treatment and advice. As part of this commitment, we provide bulk-billing to all eligible patients.
The exceptional podiatry services we provide
Backed by our highly-trained and expert team of podiatrists, we deliver all the podiatry services that you could possibly need. Whatever the podiatric complaint, we will look after you and get right to the root cause of the problem and quickly and efficiently deal with it to remove any pain or discomfort you are experiencing.
We look after developmental issues, nail surgeries, diabetics, sport injuries, orthotics, arthritic disorders, corns and warts. We will also provide an analysis of your gait and any footwear advice that may help alleviate your discomfort. We are committed to treating anyone, no matter the age, ranging from children who've just discovered walking to the older generations.
Treatments
We offer a range of treatments for specific issues that will target and deal with the source of pain in an efficient and effective manner.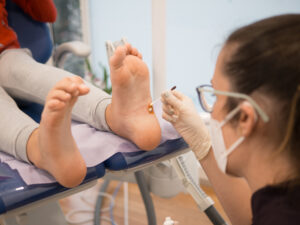 Swift Wart Treatment
We are proud to offer Swift Microwave Therapy as a treatment for plantar warts at our Arana Hills podiatry. Plantar warts can be quite difficult to remove permanently and many treatments that exist aren't the best at dealing with them effectively. That's why we sought out a treatment that has an 83% success rate, which is significantly higher than any other form of treatment that is out there. The majority of patients who choose the Swift Wart Treatment see their warts completely disappear after one to three sessions. This allows you to get back to living your life and we are dedicated to seeing that happen because we care about all of our patients.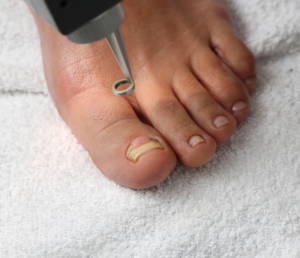 Cold Laser Fungal Nail Treatment
Toenail infections can cause people to be insecure or embarrassed about their toenails. There's a significant number of people who suffer from toenail fungus which can result in yellow toenails or nail fungus. To help with these infections, we offer the revolutionary Lunula Cold Laser Treatment which is specifically designed to help treat fungal nail infections. This treatment that is provided by our Arana Hills podiatrist clinic is safe and effective and is a great alternative to other treatments, such as nail paints, hot lasers or oral medications. Get in touch with us today to discuss your Lunula Cold Laser treatment. We don't want to see our patients suffer from nail fungus and will strive to deal with it effectively and efficiently.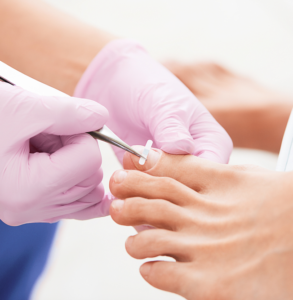 Ingrown Toenail Surgery
Ingrown toenails can cause significant pain and discomfort to many of the population. Our Arana Hills podiatrists can efficiently remove the spike or corner that has dug into the skin. Should the ingrown nail be too deep or painful, a local anesthetic will be utilised in the minor surgery that is done at our Arana Hills podiatry office. It is of the utmost importance to deal with the problem nail to reduce the risk of infection recurring. If you have an ingrown nail that keeps returning, ingrown toenail surgery is usually recommended. Normally this involves removing only part of the nail. Our Arana Hills podiatrist will employ the use of a phenol based chemical throughout the duration of the surgery to sterilise the nail bed, which minimises the risk of an ingrown toenail happening again. This minor surgery will greatly alleviate the pain and discomfort that you may be experiencing whilst also dealing with future ingrown nail problems.
Contact our Arana Hills podiatry clinic today
We are here for you, no matter the problem that you have. Our team of dedicated and trained professionals are on hand to assist and deal with any pain or discomfort you may be experiencing because we believe that no one should have to suffer with a condition that can be treated easily and effectively. To get in touch and book an appointment with us, this can be done online or by calling our office on 07 3351 5888. Alternatively, you can email our office through info@afootc.com.au. We are conveniently located in Arana Hills and are available for both in-person and online appointments.
Opening Hours
Monday 8:30am – 5:00pmTuesday 8:00am – 7:00pmWednesday 8:00am – 7:00pmThursday 8:00am – 7:00pmFriday 8:00am – 4:00pmSaturday 8:00am – 1:30pm
See another clinic